One of the joys of not being new anymore is that I've had all year to inhabit my classroom and learn how the room flows with students in it.  As a result, my room set up is a little more refined and indicative of the way that students actually use the space. I finished my room last Friday and decided to hurry up and take pictures of everything before I messed it up again!    I'm very pleased with how things turned out…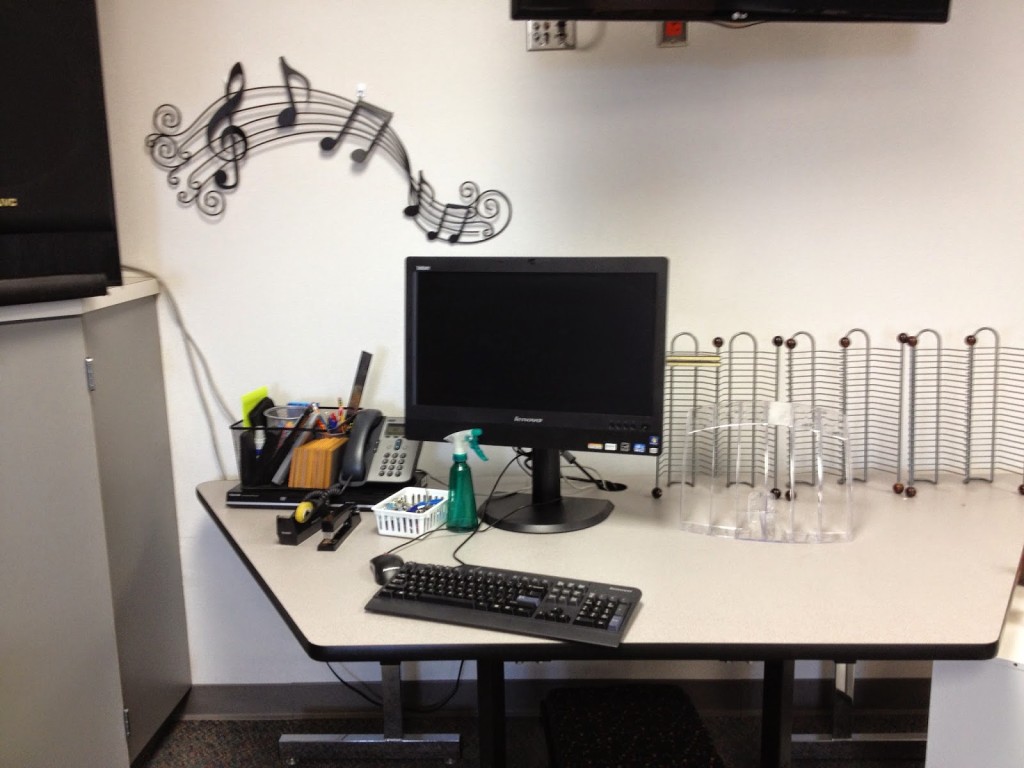 My computer area…. My personal CD collection is not yet put away because it is in need of some TLC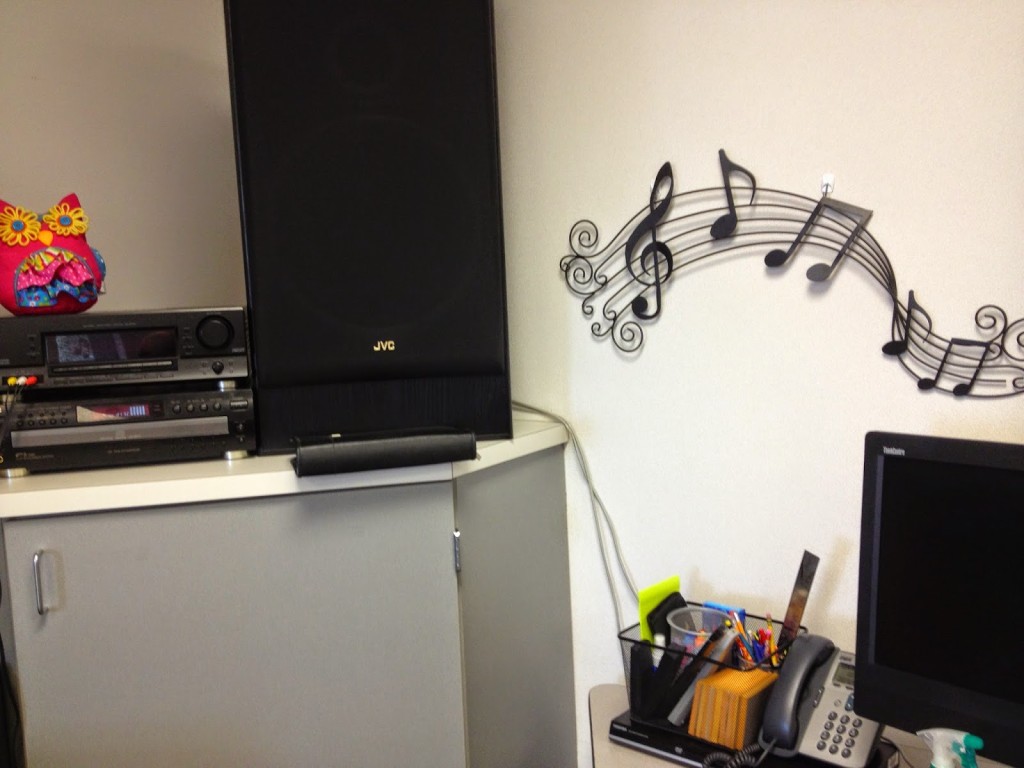 CD player and CD cabinet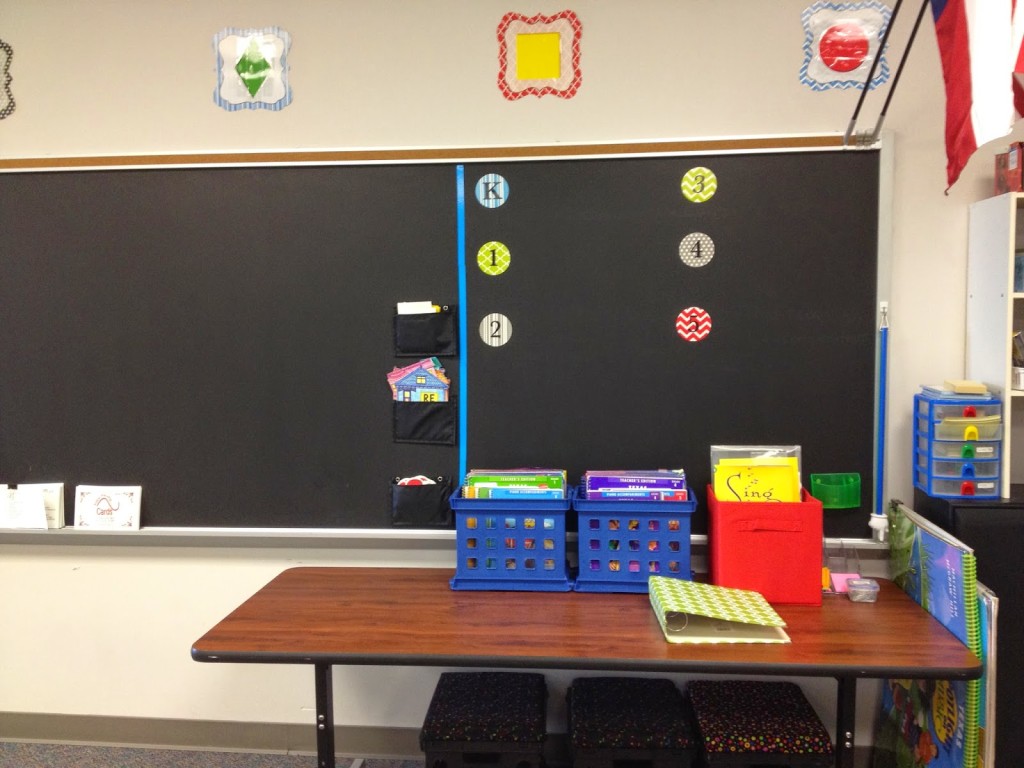 The red bucket is where I keep my "today" teaching things.  The notebook is where I will keep printed lesson plans.  Objectives and reminders will be written next to the grade levels.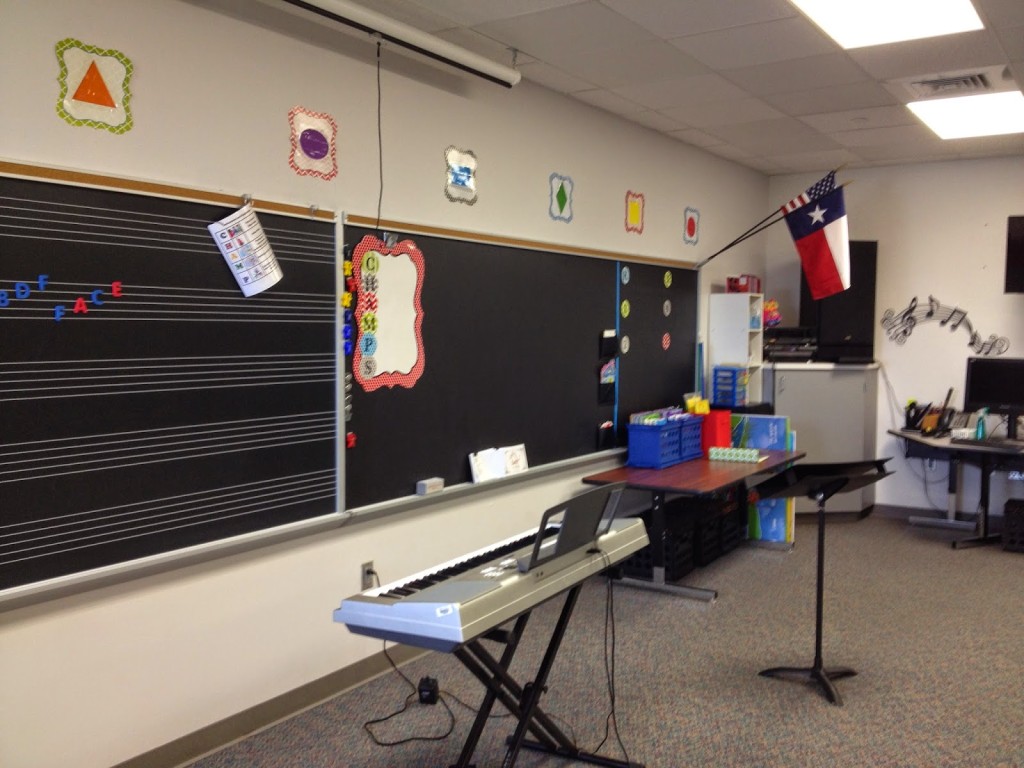 I have the electric keyboard in the front of class because although I'm not a great accompanist, I like to play for class.  I'm much more likely to be successful if I am seated rather than standing on tiptoe over an upright.  I almost never use the removable music stand and prefer to play with my music flat on the keyboard so that I can see my students better.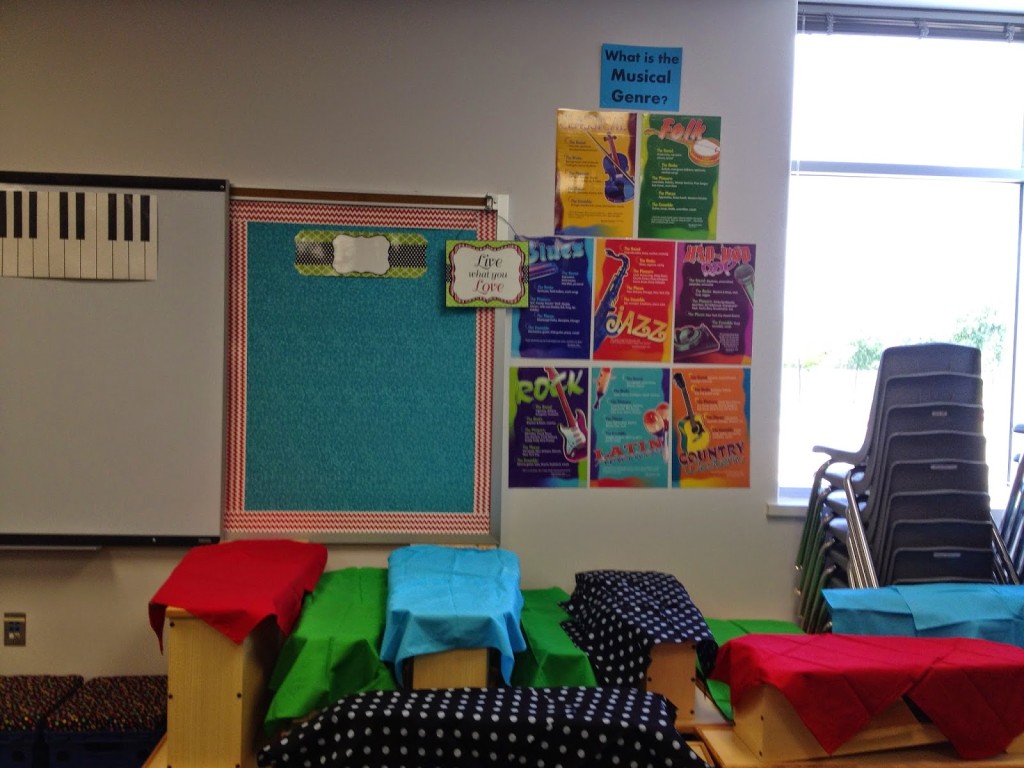 Our Orff instruments are always out.  We don't want them to get dusty.  Bandanas from Hobby Lobby some in a ton of colors and patterns and work great.  2 cover a bass.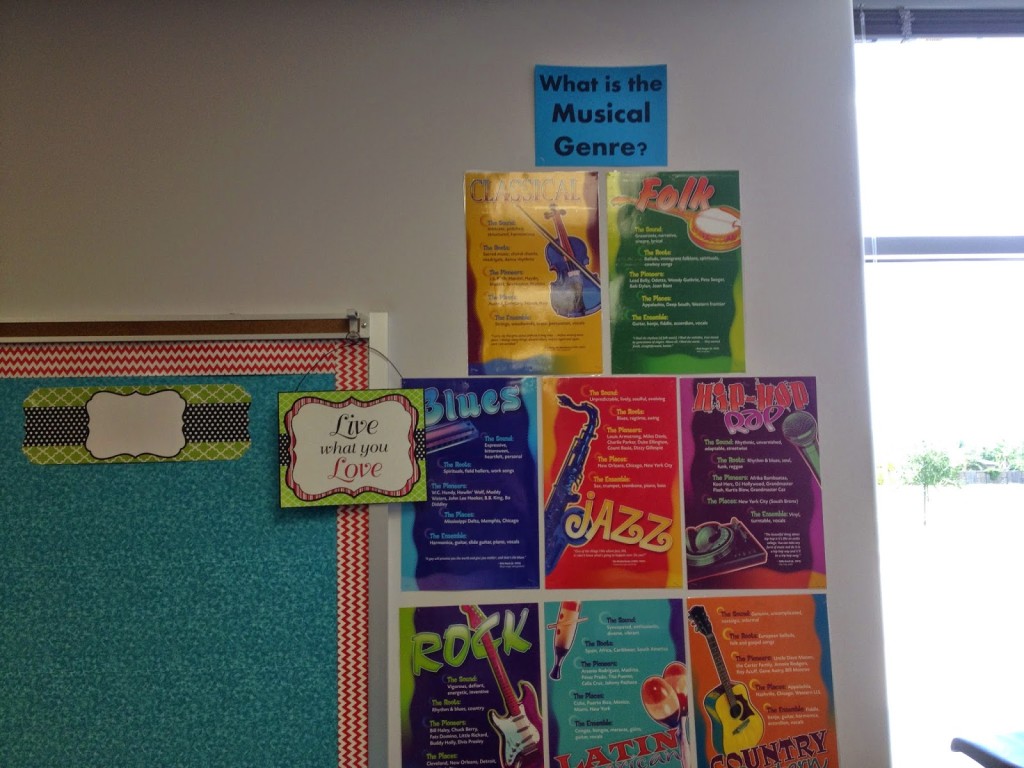 I left this bulletin board blank on purpose because it will hold anchor charts as we create them.  The genre posters I hope to use during listening lessons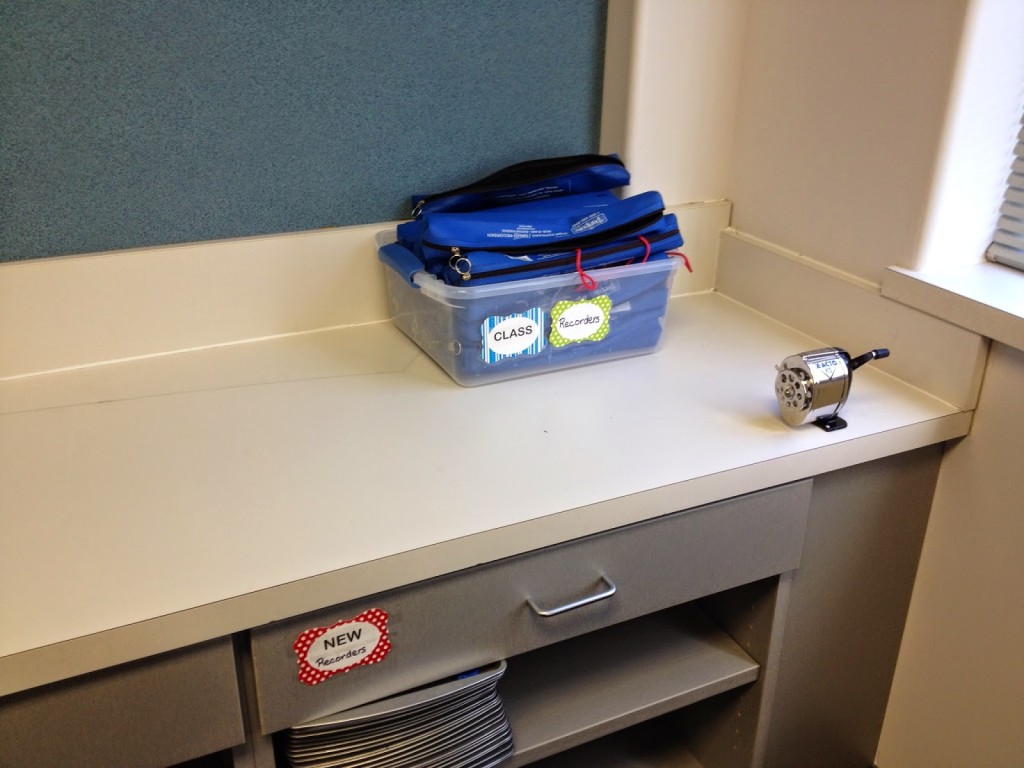 The recorders on top will eventually be assigned to students who need them so they don't have to share.  The drawer below has extra new recorders for 5th graders who might not have purchased a recorder yet.   Oh yeah, here is my pencil sharpener! 🙂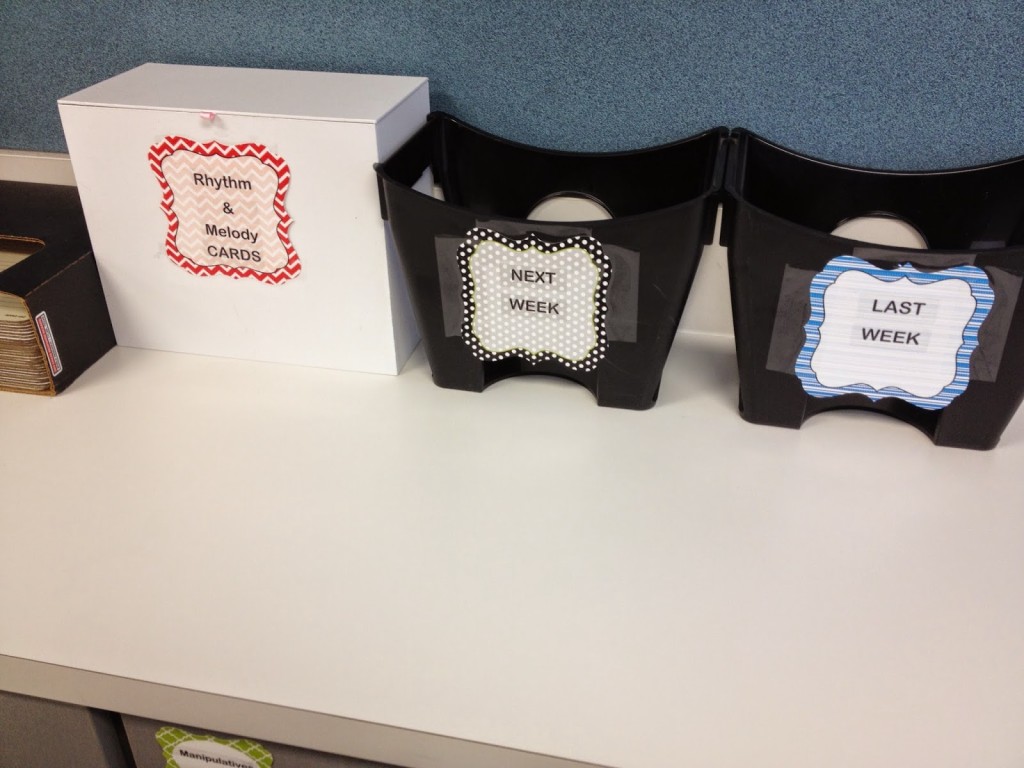 Managing instructional materials for 6 grades can be tough especially if some materials are shared.   Extra copies, shared resources, things that we are getting ready to teach…. THIS is the area where I will organize those things.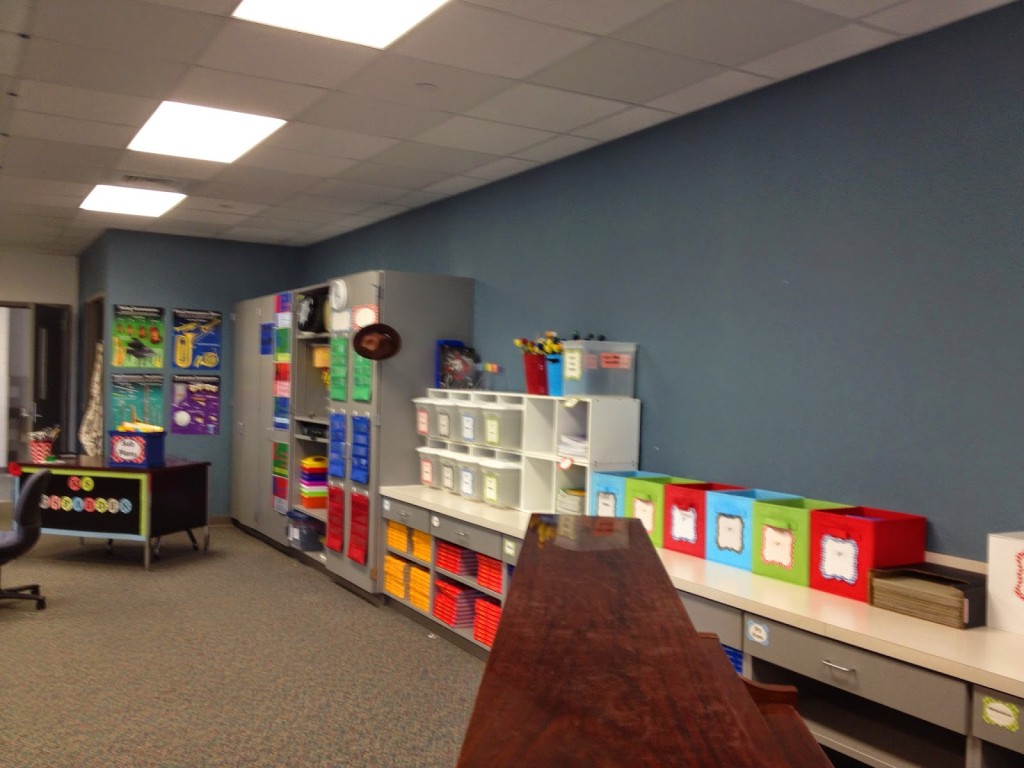 This the view of the back wall from my "real" piano…. 🙂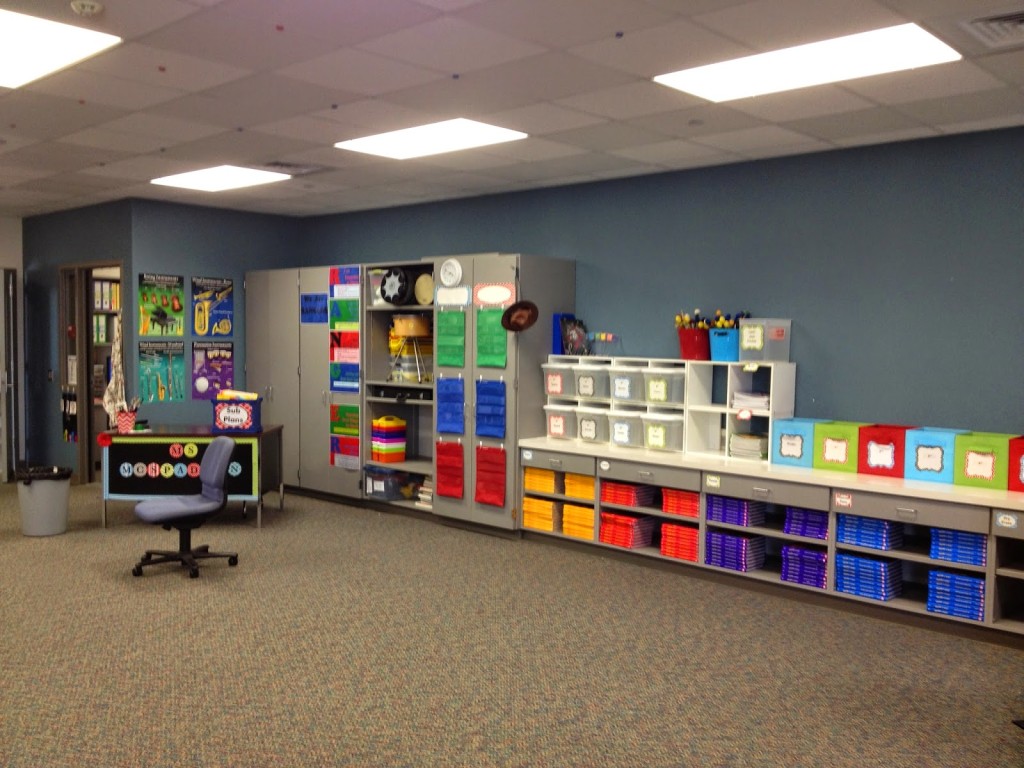 I am going to try to house my textbooks like this.  I don't know if I'll like it, but I didn't think my plan last year was very effective…. SOOOO we'll try this and see how it goes.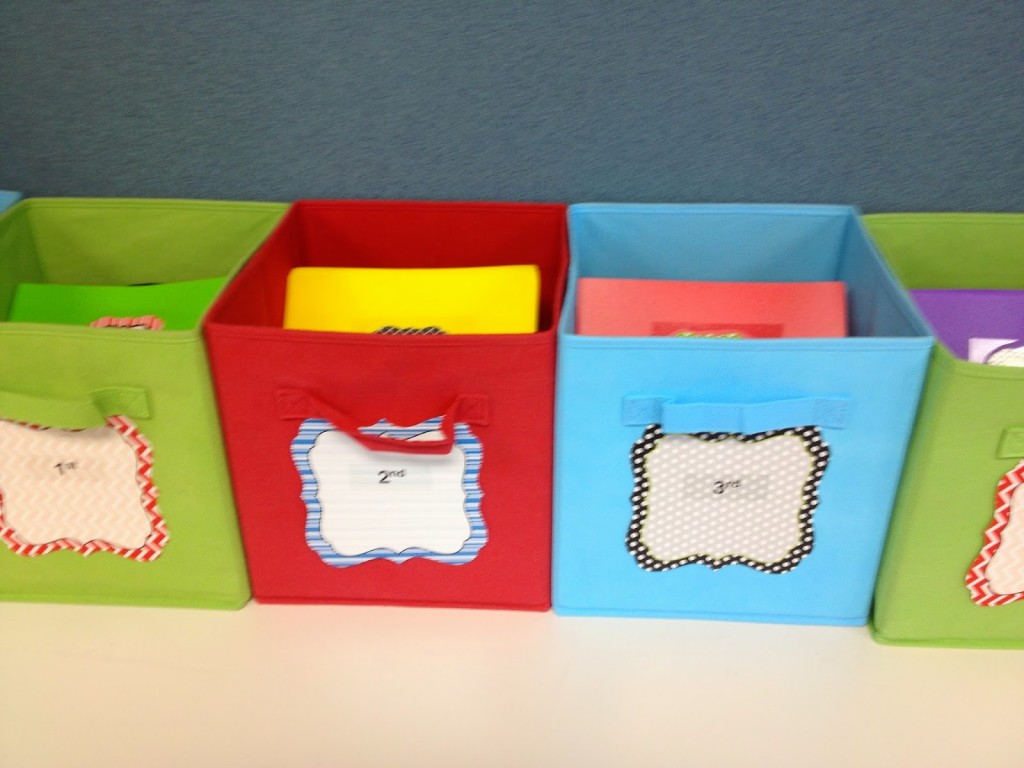 Each class has a folder to help me keep track of student work.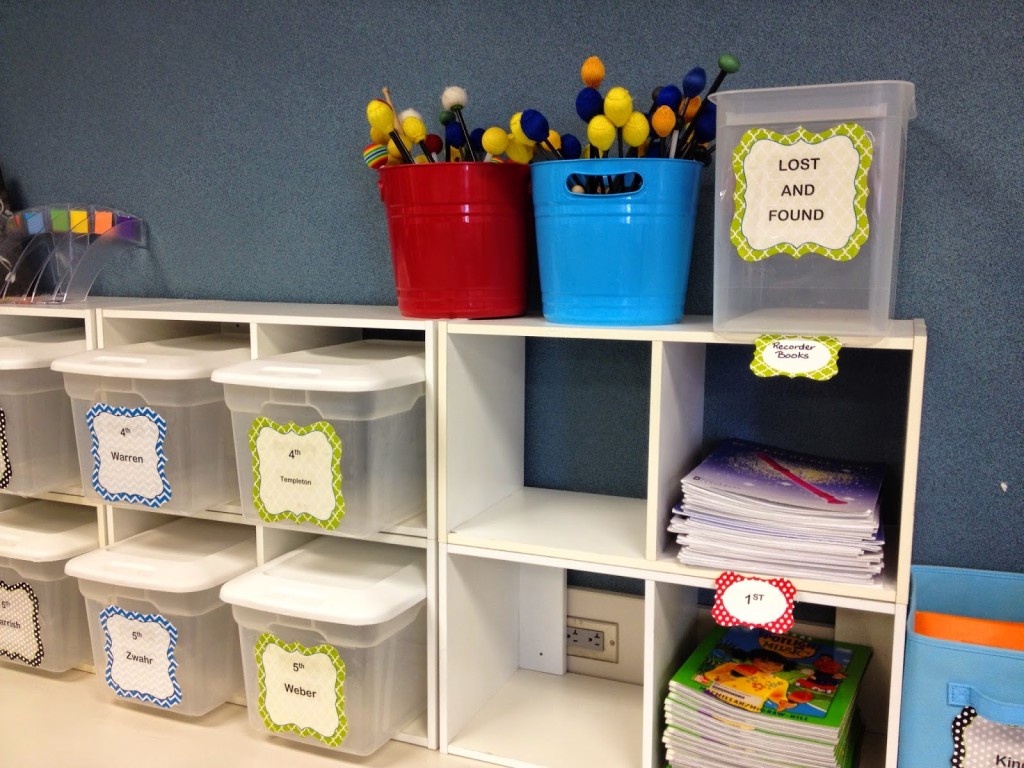 When I look at this picture, I realize that I've got to sort my mallets.
These bins are the perfect size for a class set of recorders.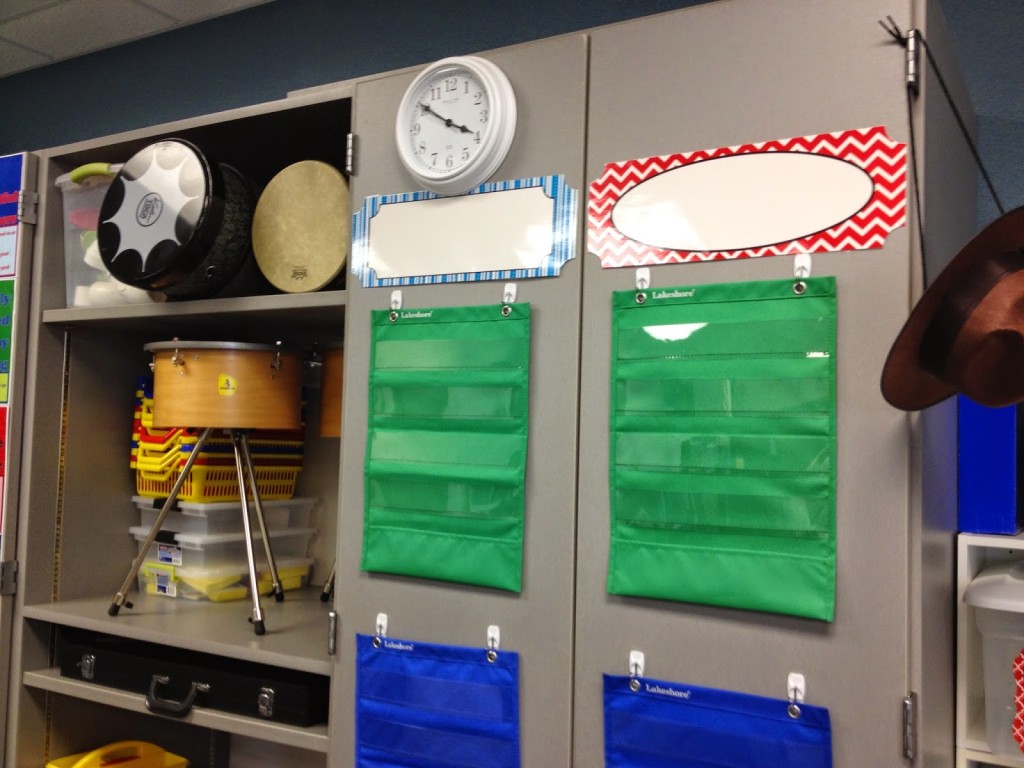 pocket charts for my word wall.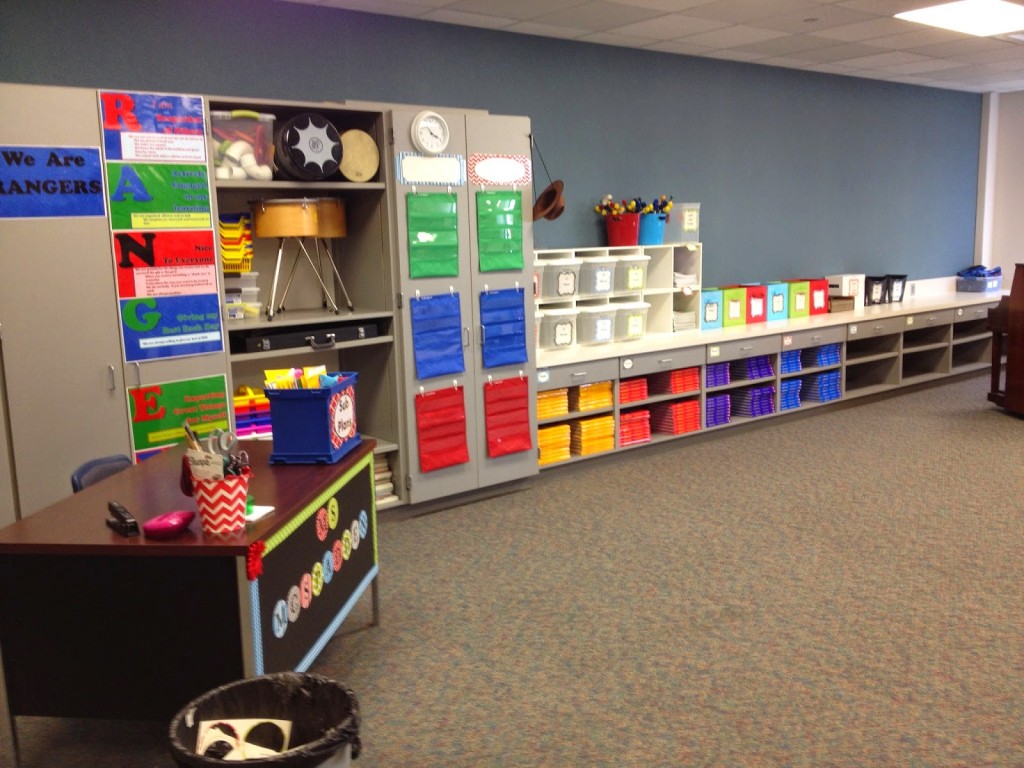 The empty shelves at the back will hopefully be the right size to store some of the things we may need for our upcoming performances.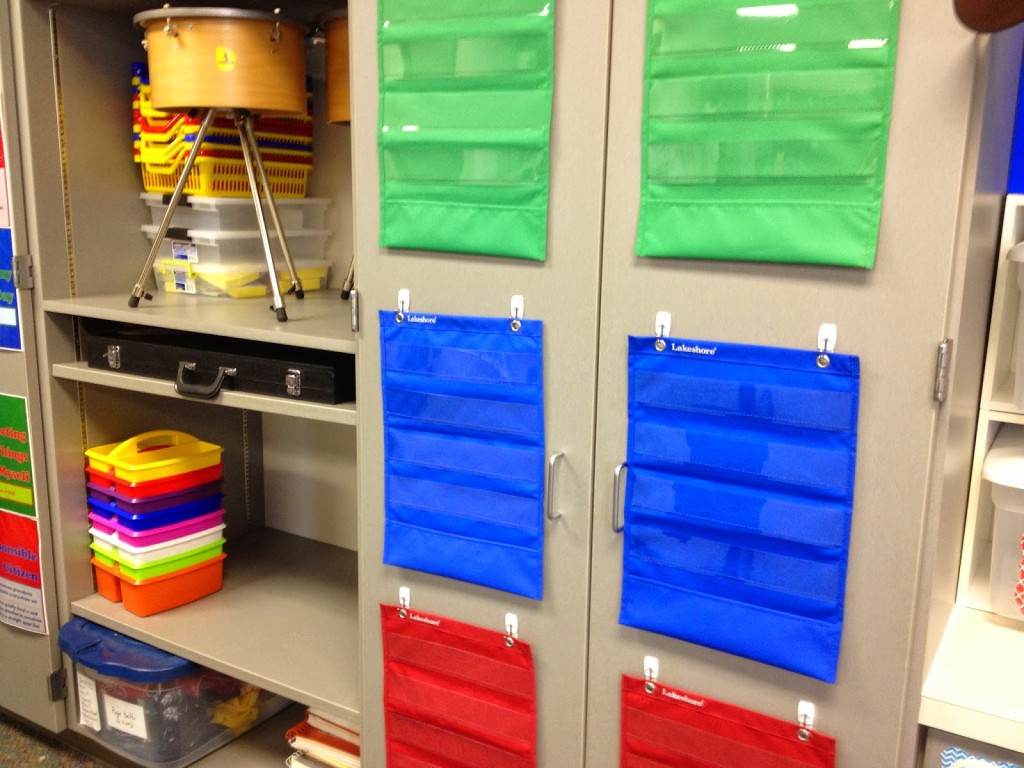 Have you ever notice that things accumulate over the year?  I think  I've finally left room for things I will receive…. like giant boxes of recorders, or performance shirts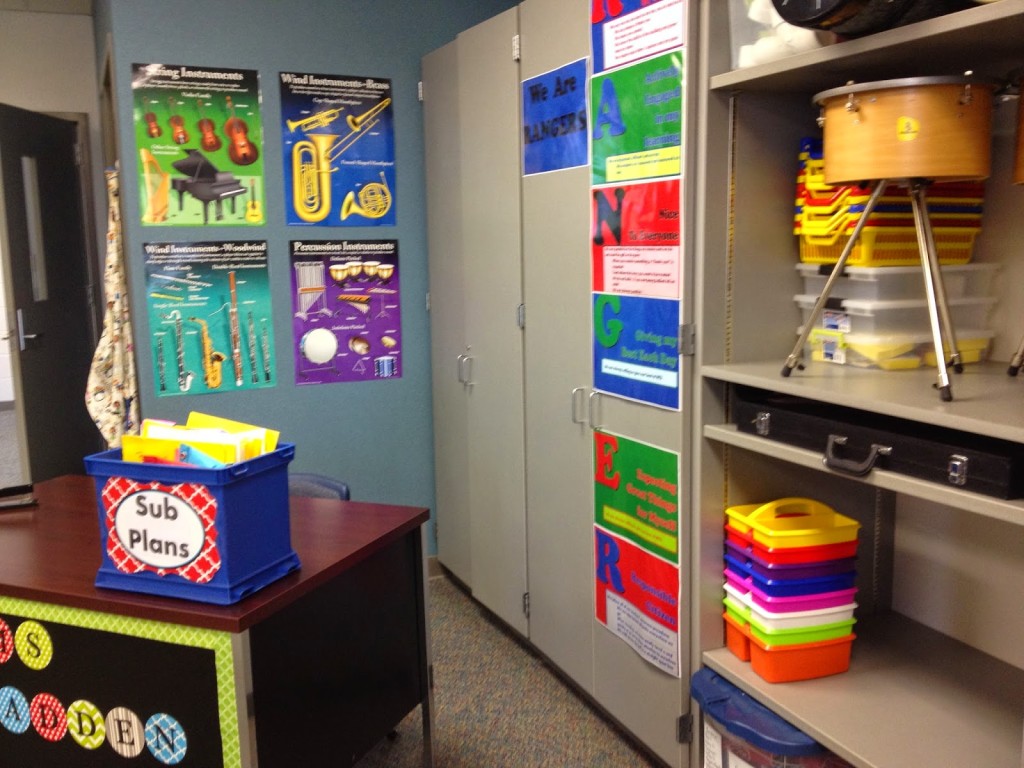 Oh my goodness!  I have a desk! AND it's cleaned off!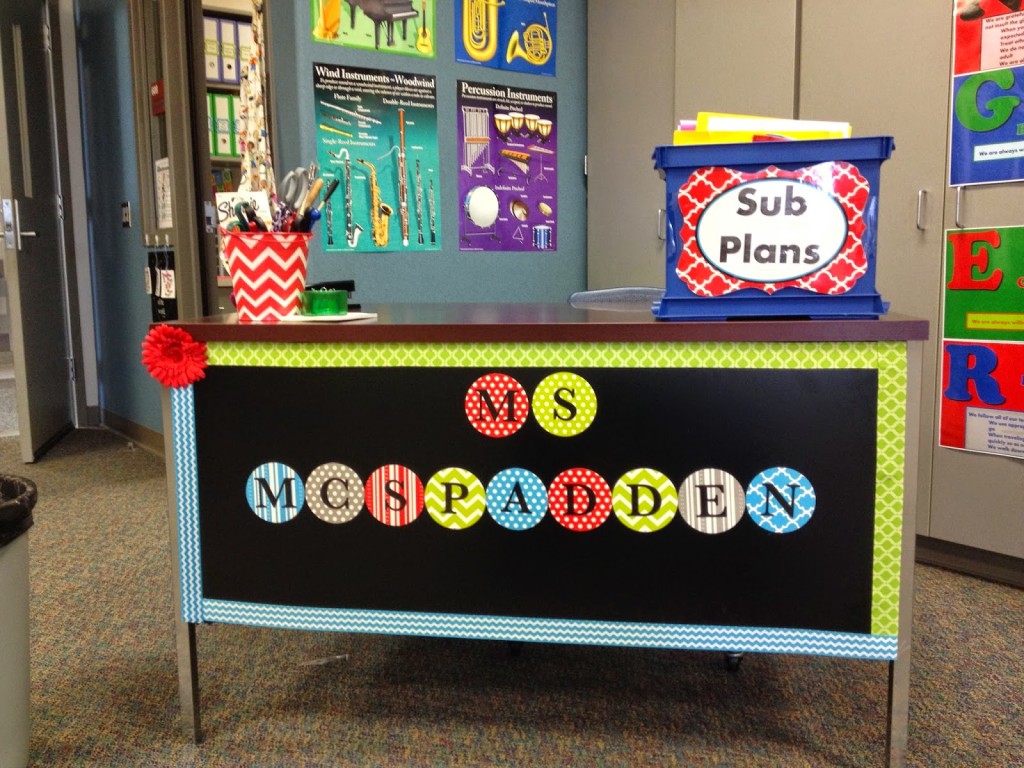 Having been a teacher for so long I have a fairly extensive collection of things that I have made over the years that I keep on my laptop.  My resolution for the year is to actually set up my laptop everyday so that I can have access to those hidden treasures if I need them.  I would also really like to keep a clean desk.  After 15 years of teaching I don't know if it's possible, but its a new year and I can try.  MAYBE my desk decorations will last through the end of the first day….maybe not…. double sided tape is my friend…. If it gets messed up…. oh well!   This also reminds me that I need to do a post about sub plans…. one of these days! 🙂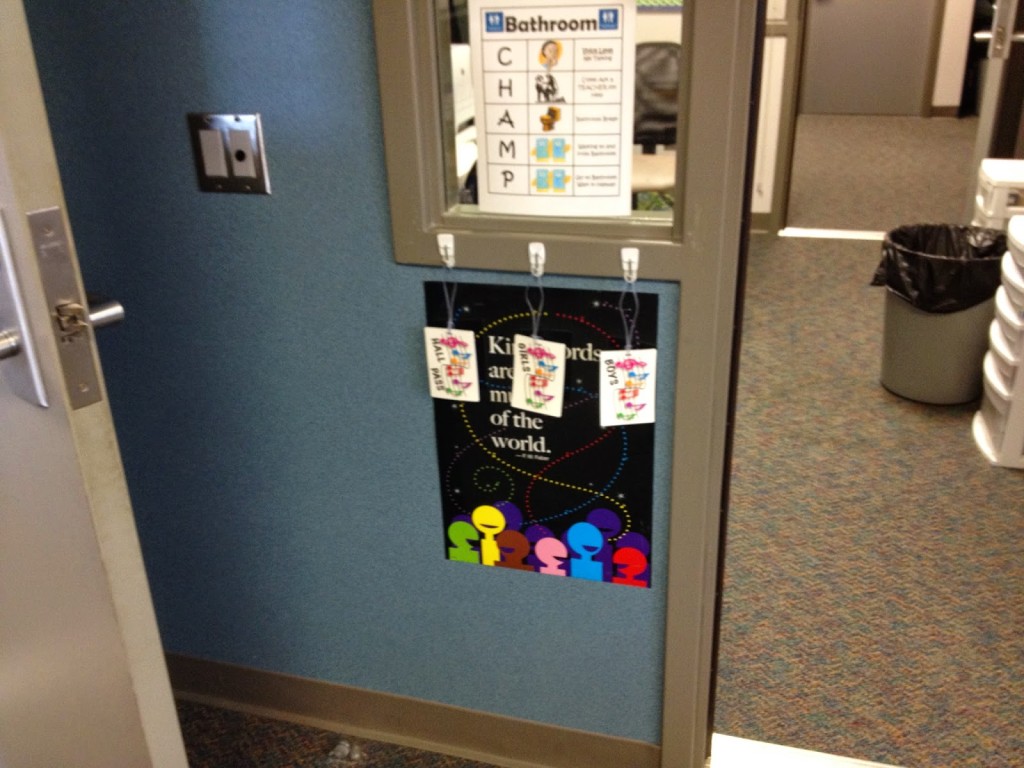 who can resist musical bathroom passes?
With school starting on Monday, I may not be free to write again for awhile, but I hope that everyone has a great time going back to school this year!