I am a music teacher who loves books. I love finding different ways that I can incorporate children's books into my lessons.  As a result, not only do I have an extensive collection of books, but my collection of books is always growing.
I've had my books semi organized for years, but in order to maintain this loose organization, I'd usually pull all of my books out and resort them at least twice a year…. otherwise I couldn't ever find anything.  I have also tried to organize my books by type and have actually managed to put stickers on them before, but because the spines of the books are so narrow, my stickers just fell off.  When a job isn't done so that the work will last for at least a little while then it really isn't done correctly and causes more work for me…..This last fall I began planning and collecting materials to do a GOOD job!  Finally this  spring, I did a HUGE reorganization.  Reorganizing your library is not for the faint of heart because it takes some real time and effort, but I think I've finally got things settled into a system that I can use and maintain while giving my students free access to my library.
When things are all said and done, I still have some work to do on my class library because I need some more of those wonderful Lakeshore containers and labels, but with a little time and help from my mom who recently retired from working at a library, we were able to get the lionshare of the the organizing done.
In terms of supplies, here is what I used: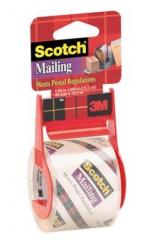 Music Classroom Library Labels 
One issue with creating a library for the music classroom is that your organizational needs are often different than a regular classroom.   I looked everywhere for a set of labels that I liked and decided to develop my own.  My list is not exhaustive and it may be that you have more success organizing your books in a more traditional way.  These are the labels that work for me.  I tried to make them as simple as possible so they would be easy to replace without causing me to have to redo everything.  I printed my bin labels on cardstock and slipped them into the adhesive bin label holders from Lakeshore.  This way, I can change them out as needed.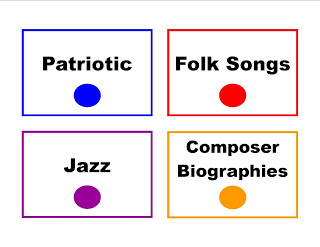 In case you would rather create your own, here is the list of categories that I used to sort my books:
Author Studies – I have several sets of books all written by the same author.  John Lithgow, John Denver, Woody Guthrie, etc….
Composer Biographies – Beethoven, Brahms…..etc….
Chapter books
Christmas
Dance, Ballet, Movement –
Education Through Music – Books that contain illustrated re-tellings of songs that are in the ETM repertoire
Favorites – books that I love!
Fiction – traditional story books that I either read outright or that students are free to read
Folk Songs – Books that contain illustrated re-tellings of Folk songs that are not in the ETM repertoire
Halloween
Holidays – small holidays that for which I don't have many books….Valentines, St. Patrick's
Jazz – Books that contain either Jazz music, style, historical or reference information about Jazz
Just Add Instruments –Books that we accompany on instruments
Math – books about fractions that I use with music
Musician Biographies – Buddy Holly, Stevie Wonder, Celia Cruz…etc
Musical Reference – books about instruments, musical anthologies
Musical Works – books that illustrate major musical works…. Carnival of the Animals, Peter & the Wolf, Pictures at an Exhibition…etc.
Non-Fiction – biographies of famous non-musicians, language books, books about different countries,
Patriotic – Books that contain either the song or historical information about patriotic music
Popular Songs –  On top of Spaghetti, Wheels on the Bus, Going on a Bear Hunt….etc
Science of Sound – books that I use to as reference for teaching about the science of sound
Texas Music – books about Texas or songs that I use as part of our Go Texas unit
Thanksgiving
Visual Arts – Books that create a strong link between visual arts and music, My many colored days…etc
World Music – stories and songs from around the world
Here are the pictures of how I created my NEW library!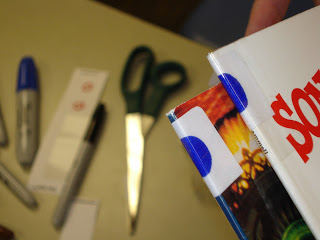 We cut white labels to make book spine labels.
The symbol on the spine of the book matches
the label on the basket.  Each label is covered with mailing tape.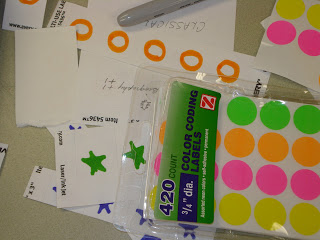 We used stickers when we had them, or drew the symbols when we didn't.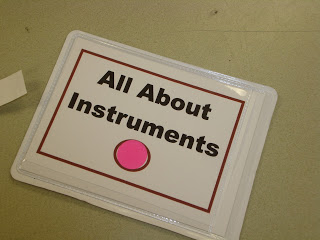 This symbol was changed because brown is too close to black and we had pink stickers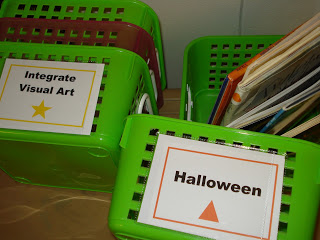 I am going to replace these boxes that I got at the dollar store because they are
too small to hold picture books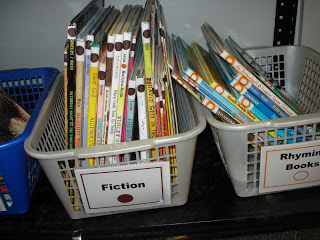 These are my very old baskets that I will continue to use until I can
replace them with Lakeshore boxes. The labels were reinforced with tape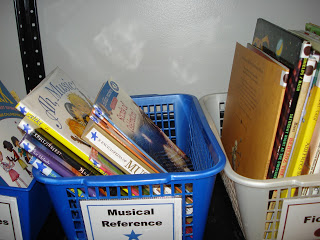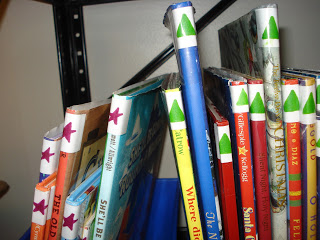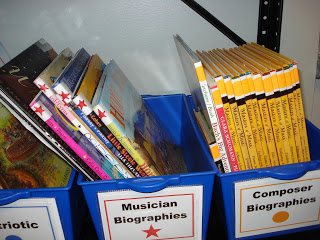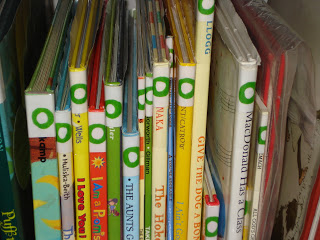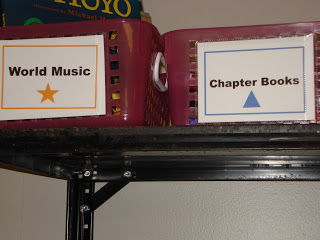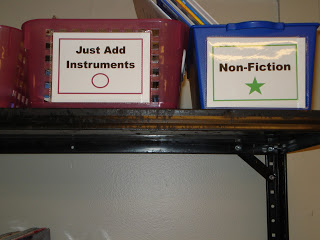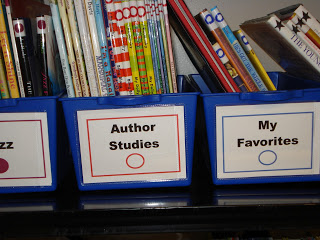 I keep my most frequently used books at eye level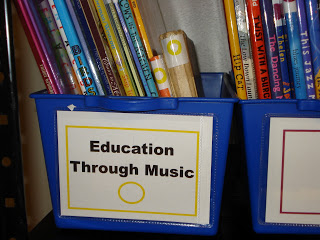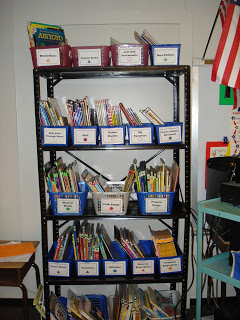 I look forward to purchasing more bins because the Lakeshore book bins fit best.
Maybe someday I'll even get to replace my very sad looking shelf!