I have a confession to make….. I don't like teaching music with chairs in my room.  After my first two years of teaching where I tried daily to make chairs work for me, I finally decided that I liked the floor just fine and I've had music class on the floor ever since. The absence of chairs frees us up to quickly and easily go back and forth between seated and movement activities without a lot of fuss….. FUSS takes too much time!  Because I keep my chairs stacked in the corner for everything except choir, there are times over the years when I have wished for a way to make our "floor time" more comfortable while still maintaining the freedom of keeping the majority of my class open for movement. I've got a few ideas that are still brewing in m mind about how to help comfort meet convertibility but in the mean time I've got students who need teaching and who also have opinions.
One of the more opinionated groups that I teach is my little after school music listening club.  What an adventure in music listening and negotiation they have been. Who knew that 5th grade girls and 3rd grade boys could be in a class happily together?  Well, early on they decided that pillows would make listening to music at 4:30 p.m. each Thursday much more enjoyable. For about two seconds  I thought about letting them bring something from home, but then I remembered all this thinking that I've been doing about students comfort levels during "floor time" and it's relationship to the success of our listening and writing activities.  Soooooooooo I decided that maybe it was time for the chair-less music room to invest in a few creature comforts. That sounds like a project in need of a plan!
Priority #1 Whatever I acquired MUST be Inexpensive -I teach music and so most of my money goes to buying costume materials for grade level performances….. .
Priority #2 Easy to make – It wasn't long before I figured out that I wasn't going to find what I wanted in a store and although I know my way around a sewing machine, I'm no Martha Stewart!


Priority # 3 Easy to wash – I have a small washing machine, so I needed things that were both comfortable AND easy to wash, because I KNOW these will need regular washing!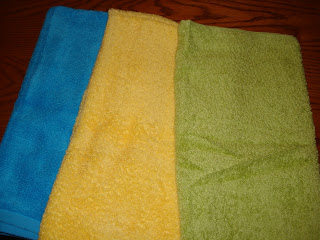 My moment of inspiration came at Target earlier this week.  They had brightly colored hand towels on sale for $3.50
Since I already had almost 3 bags of polyester "stuffing" at home, I had an idea!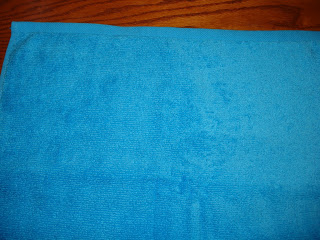 I didn't even take the time to turn them inside out!
I just  folded the towels in half …….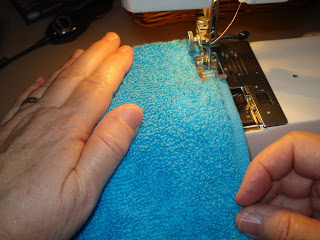 and then sewed up the 3 open sides…..ALMOST all the way around,  Don't forget to leave an open space for the stuffing.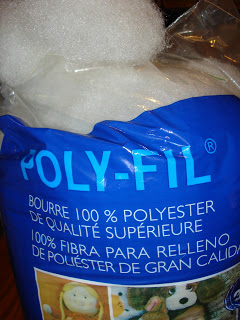 Stuff the pillow with poly-fil and then sew closed the last little bit.
THAT's IT!
Fancier folks than me could have done a more complicated pillow, but I'm thrilled with these!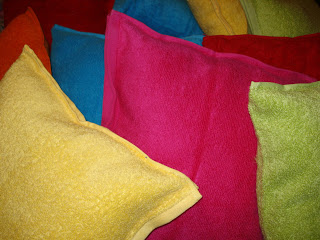 I ended up with 10 BRIGHTLY colored, easy to wash pillows in under two hours.  I used two and a half bags of stuffing.
My favorite part is that these pillows are not really tightly packed…. so they will wash and DRY easily.
Although I try to be frugal, I am certain that some of you will be successful in finding hand towels MUCH cheaper than my $3.50…. however, I like these so much, I think I may go get some more for my house…. I've got bright colors there too.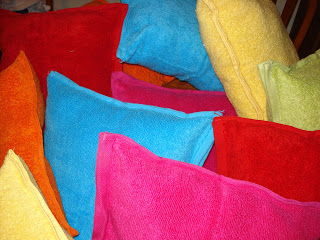 I bet this would make a nice pet bed if you used a larger towel or two….
While this little project doesn't address ALL of my classroom comfort issues, I believe it is a start in the right direction.  Now my little listening club will be happy and after class I can throw them in my washing machine and that will make ME happy!
I don't plan on making these cool pillows common knowledge in my classroom   until I have time to make some more…. OR maybe I'll make a few of those  t "file crate chairs" that I've seen everywhere on Pinterest.
Click on the  "file crate" picture to go to the blog where I got this great idea!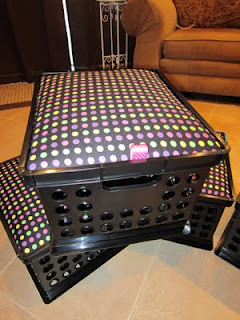 Please follow and like us: