I've been teaching for 24 years and I have always been terrible with paper management. Whether it is simply that I am overwhelmed by the volume of papers that cross my desk, overwhelmed by the tasks represented by each paper or simply overwhelmed, it is not at all uncommon for my desk to be swimming in a sea of papers. This blog post is dedicated to those of us with messy desks who don't succeed with elaborate systems and need something super easy. It took twenty four years of teaching for me to grasp that I need a place for 4 (well 5) places for papers to go.
Open / Active Task Folder
Communication Folder
Files by the Month –
"Copy" Folder – This is NOT where I put things that I would like to copy! – read below for more information
Trash Can – LOTS of things can just go in there, so I've learned to keep it by my desk. 🙂
Open / Active Task Folder
This year for the first time I have what I am calling an "open task" folder. For YEARS I have struggled with what to do with all of the administrative tasks that I needed to keep "out and active" so that I could work on them between classes. This year for the first time I have a bright red, normal file folder that includes ALL of my "open tasks". If needed, I'll make notes to myself on sticky notes, but I like that I can have ALL of the open tasks in one place. I keep it in a tray on my desk. The thing that has totally surprised me is that the "open task" folder has not gotten buried, it has not gotten overstuffed. When I am done with an open task, OFTEN it needs to be moved to the communication folder.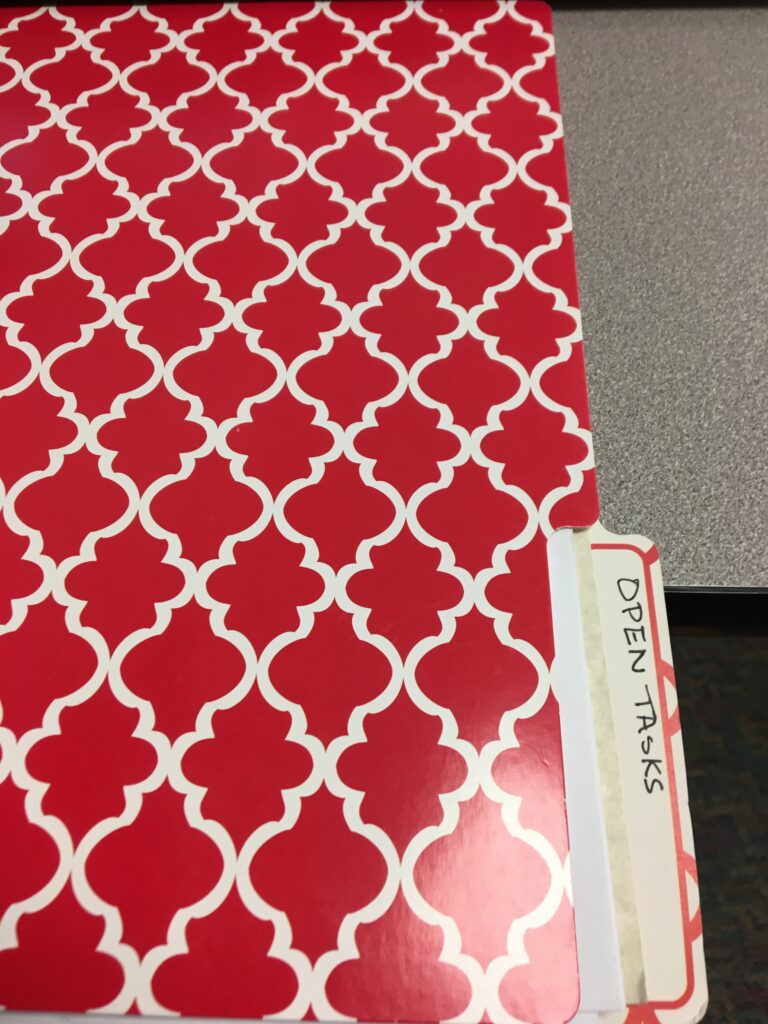 Communication Folder
This is the folder that I use when I need to turn something in to anyone. Do I need to submit my bus request for an upcoming field trip to the principal for approval? It goes in the communication folder. Do I need to submit a requisition and quote to the financial secretary? It goes in the communication folder. The communication folder I use is a regular two pocket folder with no brads, but it is covered in a music notation design. The folders came in a pack and I bought them at Walmart about 15 years ago, so I have more than one. It works great because as I complete tasks that need to be passed along, I can put the associated paperwork in the folder with instructions or sticky notes. THEN, if there are questions or when admin is finished, the papers go back in the folder and are returned to my box. Using the folder helps me make sure I don't loose those very important papers that help tasks at school move forward. The most important thing about this folder is that it is easy to spot. It should be distinctive so it doesn't get lost or confused with anything else. I like these tie dyed folders linked above. (Full disclosure, I am an amazon associate.).
Files By Month
For the first time this year I have a hanging file within easy reach of my hand when I am sitting at my desk. In the hanging file I have 10 folders marked with the months of the school year (August-May).
I sort the papers that go in these files as follows:
Papers that I need to keep for reference go directly into the hanging file by month.
Papers that require action go directly into the "open task" folder.
Anything else goes directly into the trash.
I find these folders most helpful in tracking those tasks that are purely administrative that I must do to make things in music class move forward, but that are super easy to forget about. Here is an example. In my district, before setting up a field trip, we must submit a "field trip request form". I take my ensembles on field trips and I organize a field trip for 5th grade when they go to hear the junior high students perform. By the time this year is finished, I will have submitted 5 field trip request forms. When I got back to school in January, I was going over my list, and I thought to myself, "Have I done the field trip request forms for the spring?" . Since we've gone on 3 field trips this year, I was sure I had done at least some of them. I filled over to October, and sure enough, there were my field trip request forms for the 3 field trips we had taken in the fall, BUT there were no more completed request forms for the spring. Previously, I would have looked ev-e-ry-where! I would have looked under "choir" or "field trips" or "required forms"… the possibilities boggle the mind. Instead, I looked in 2 folders to start, and when I realized that I might not have already completed the task, I only had to look through 3 more. They were all in one place. It took seconds. What would have been an all day slog with a risk of redoing work I had already done, was quick and efficient.
"Copy" Folder
I keep a hanging file immediately by the printer. In that file, I keep any paper that I print or copy for students. These papers could include anything from instructional materials and rehearsal schedules to performance flyers and permission slips. I keep these separate from the files by month because these are the papers that I am most likely going to have to have easy access to in order to copy again. I also keep these paper separate and right be the printer because I share a printer with 2 other music teachers. We try to stay mostly in step with our lessons, so if one of us needs an extra copy of a particular worksheet or something, all the papers we create for use with students are in one place. This is where we put things like:
flyers about performances
sub plan worksheets
extra copies of permission slips
As I finish this post, I realize that I haven't discussed student work. Student work is a rather large topic, and is a post that is in the works for a future date.