This last week was the deadline to submit the 2019 FFT travel fellowship. Seeing all of the posts reminded me that it was time to reflect on just how significantly my recent FFT fellowship has informed my teaching this year.
Some of the things I planned to do as part of my project are still in the works and should be accomplished within the next six months to two years. Some things have happened as a result of the fellowship that have far exceeded my expectations., and in almost EVERY lesson, my experiences from this summer are flavoring the experiences my students have in my music classroom every day.
Here are a few things that have occured in my classroom and in my life as a professional as a direct result of the Roots of American Music Fund for Teachers Fellowship!
COURAGE TO COPYRIGHT
As a result of the songwriting class I took as part of the Roots of American Music course offered by Mars Hill University I got to "talk shop" with amazing people like Alice Gerrard. One of the things she shared was importance of taking the time to copyright original music. While I have been a songwriter for years, I have never taken that extra step. As soon as I got home, I had the courage to submit a few of my songs for copyright. In December I received my first copyright certificate. Thinking about next steps will come later, but I don't think I would have had the courage or tenacity without the opportunity to learn from such knowledgeable and generous musicians. I don't yet have plans to publish anything formally, but if I want to pursue that along the way, I actually have some songs that are legally mine.
MUSICAL CONTEXT FOR EXISTING REPERTOIRE
Almost every week of this school year I have been able to connect repertoire we already use all the time to things I learned this summer. In elementary school especially among my youngest students a great deal of the music used to teach the basic musical elements is English language folk music. This use is not at the exclusion of various world musics, but rather as a result of melodic and rhythmic considerations. As a bonus, these English language folk songs serve as excellent song literature for my many students who are learning English as a second language.
Imagine my joy this fall as I discovered that many of the songs we had been using all along were songs that have direct links to the music I studied this summer!
For example, in kindergarten and first grade we spend a great deal of time talking about musical opposites. When we teach long and short sounds we sing songs and engage in movement activities that help children experience long and short sounds.
I have enjoyed using the song "Hunt the Cows" for YEARS to teach long and short sounds! Before this summer I had no idea what their roots were or anything about the process used to discover or preserve them. I was delighted to discover that one of my favorites had been recorded by Jean Ritchie who has become one of my ethnomusicological heros.
Jean Ritchie is known as the "mother of folk". Her older sisters contributed to the folk song collection of Cecil Sharp in 1917. She was invited by Alan Lomax to record all the songs she knew which he then submitted to the Smithsonian Institute. She enjoyed a very active recording career until her death in 2009.
NEW REPERTOIRE – FROM AROUND THE WORLD
One of my favorite classes at the Swannanoa Gathering was the class about African Music and by extension, Jamaican Music as one of the MANY cultural streams that has influenced musical development in the United States. Though the class was not specifically for teachers, my professor, Dr. Kathy Bullock, was sensitive to my unique needs as an elementary music professor and dedicated an entire day to singing games just for me. I was delighted to bring the music back to my students as part of our study. The joy expressed by my students who have Jamaican music as part of their cultural heritage was contagious. While only a few of my students identify part of their heritage as Jamaican, it was fascinating to see how much more meaningful the lesson was when at least one student had a connection to the music. All the students related better to the music when they found out this friend or that friend had a cultural link to the music. Furthermore, as we listened to various genres of Jamaican music, students whose cultural roots can be traced to places like Trinidad and Tobago, Brazil, Venezuela and Costa Rica provided lively discussion about elements of the music they related to. It was grand!
CELEBRATING THE TRADITIONS WITHIN OUR COMMUNITY
Our first performance of the year occured in the middle of November and was performed by the entire 3rd grade. We were able to find a collection of global folk tales to perform. The tales were told by narrators, acted out and accompanied by children playing instruments, singing and dancing. The musical folk tales we were able to include were China, Sierra Leon, Russia and India. It turned into a lovely, and ambitious performance and was a true reflection of the music and folklore of several of the cultures represented in my school.
This January our school counselor also started our first ever International Festival. Boothes from over 20 countries, a fashion show and student performing groups representing 6 different cultural traditions made the festival a true success. I had hoped to create a booth for people to record their work, but my help was needed in other ways so I'm still looking forward to collecting musical and cultural artifacts through our online classroom platform.
UKULELES
Over the summer I posted a proposal on donorschoose.org for the purchase of 15 ukuleles in my classroom. Not only did I receive the ukuleles, but the vast majority of funding came from the beautiful people I met while on fellowship. These new friends and I have become great Facebook buddies and when after spending time together creating, and celebrating great American Roots music, they came together and supported our efforts to get ukuleles in my classroom. It was so much fun writing thank you notes with my students to all of the friends from North Carolina who had been so generous with my students.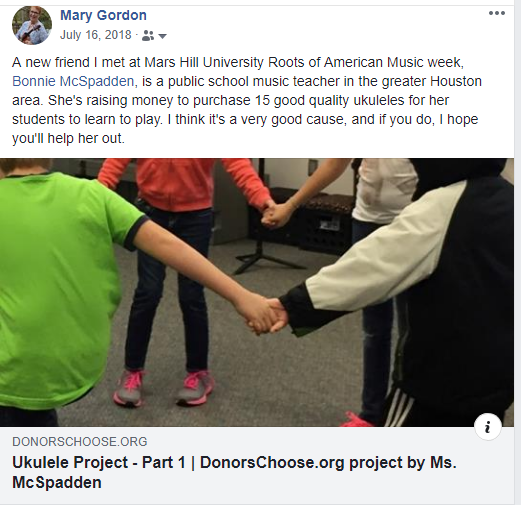 The beauty of this video is found both in the enthusiastic singing (that doesn't USUALLY occur among ever more bashful fifth graders), AND in their willingness to learn something new. It's January now and they have continued to grow in their ability to play and sing together. They can now play 3 chords (F, C and G7). Knowing 3 chords on a the ukulele means that an entire world of simple folk songs from all over the world are now available to them. I truly thought we would take a break from ukulele, but MANY students received ukuleles for Christmas and now that they have developed to a solid beginner threshold of ability, the motivation to continue to play has kicked into high gear. NONE of this would have been possible without the relationships made with fellow musicians while on fellowship.
UNDERSTANDING THE POWER OF PLAYING AND SINGING MUSIC TOGETHER
One of the biggest lessons reinforced to me as part of this FFT fellowship was the idea of singing and playing together as a form of pro-social behavior. Sitting around in a song circle with a multigenerational group, learning by doing was THE teaching model that I am most excited about bringing home with me from North Carolina. Indeed, the manner in which folk traditions most thrive, is simply by inviting communities to enjoy music together. This model has been replicated already in my classroom in a very small scale. One of the most delightful activities we have engaged in (with the ukuleles as the catalyst for exploration) is to think of as many "old songs" as we know to play and sing. Sometimes fifth graders as the oldest students in the school get a sort of "too cool for school" bad rap, but put a ukulele in their hands and songs like "brother john" and "row row row your boat" are suddenly the best songs ever! Indeed as I think of how to move my students toward a habit of ethnomusicological awareness, taking the time to remember the songs we know and have shared together since kindergarten is the first step.
THE JOURNEY ISN'T OVER…
What a wonderful delima it has been to have too many ideas to implement right away. I look forward to the ways in which the FFT experience continues to inform the learning that takes place in my classroom each day.