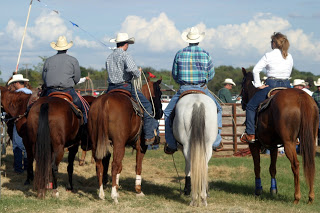 Everyone in Houston knows that Go Texas Day is awesome!  Go Texas Day commemorates the opening day at the Houston Livestock Show and Rodeo.  Each year trail riders descend on the city from all different directions and converge on city as they make their way to the Reliant Stadium and Arena for opening day. Elementary schools all over town have events in celebration.
Our school has a square dance and sing along with each grade level during their regularly scheduled "specials" time.  Our parents are invited and because the gym is so packed with dancers and guests it's hard to find a place to stand where you aren't in the way of a video camera.
Once the dancing is over we sing together with whatever time is left after the dancing.  As soon as one grade level leaves, we set up another grade level for square dancing and away we go!  6 grade level programs in one day is A LOT!!!!!!  But it is really an adventure in precious!
Each morning I have hallway duty and one of my primary functions is to help the 5th graders find the gym where they read quietly until their teachers arrive to pick them up.  (I have a few 5th graders who tend to get lost when it's time to read, so I help them remember where it is and what they are supposed to do when they get there)  This morning was no exception, but unlike other ordinary mornings, I had a whole bevy of 5th grade girls AND boys primping in the nearest bathroom trying to get ready for the BIG DANCE!  Since the nearest bathroom is also right next to the music room, I had my bandannas ready and anyone who didn't come to school outfitted as a cowboy could borrow one.   They were ALL so excited!
Of course, I was dressed up for Go Texas Day too and I'll admit that I sort of embrace my "Fancy Nancy" persona on Go Texas Day and try my best to be a little over the top.  Today I had a red bandanna skirt, a red rhinestone "rodeo" T-shirt and denim jacket with a red rose pinned to the lapel and a red rhinestone cowboy hat and of course I had boots.  FUN!!!!!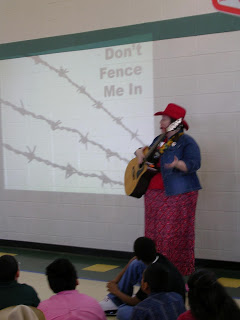 The hardest part of the day is standing all day in boots on the gym floor. There are other times during the year when I spend the day in the gym and none of them are quite as taxing as the day I spend in boots, so I'm guessing that the gym floor and my boots are just not a combination for comfort.  It is my habit to sort and reset my room every Friday after school, and for my own sanity today was no exception.  I try my best to only stay late (after my daily 5:30) one day a week and it usually ends up being Friday.  Today, because my feet hurt,  I only stayed long enough to detangle the spaghetti on my desk into piles and put away just a few things while gathering a work bag to take home for tomorrow.  By then my Go Texas Day feet were screaming at me, so I was out of there and home by 5:50….I live very very very close to school.
Within five minutes of arriving home I was ready for bed, in my pajamas, ready to watch a movie before heading to bed.  It wasn't long before I realized that the sweet children who live downstairs and who attend my school were not going to quit knocking at my door. My clue was when they switched from knocking to using the metal door knocker. I looked at myself and realized that I didn't have a choice.  I was going to have to answer the door IN my pajamas.  – How Embarrassing!!!! However, it was worth it!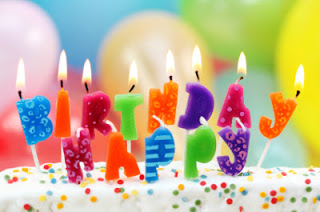 There they were, big brother still in his cowboy clothes and little sister dressed in her princess finery complete with a tiara.  They were standing there holding out a plate of birthday cake and ice cream for me!  Princess was celebrating her birthday today and wanted to bring me some cake and ice cream!  So SWEET!  I have the best neighbors EVER!
Now I'm enjoying a very sweet Saturday while I catch up on piles of laundry, grades, and planning for the rest of the semester.  LOVE my Saturdays!